Explore the world of film and learn how to make your documentary at Exploration Workshop!
If you are a young person passionate about film, video editing, photography and believe you can contribute to the development of your community, you are the perfect candidate for the Exploration Workshop. The workshop will take place in Cahul on 22-28 August 2022.
About the Workshop
The workshop aims to give young people an introduction to the world of filmmaking and the basics of documentary filmmaking and plenty of hands-on experience through a series of field exercises. It is an intensive workshop where participants will learn documentary filmmaking techniques, film equipment, and working with a film editor. At the end, they will make a short film, aiming to cultivate a closer look through art on the reality surrounding us.
Under the guidance of director and camerawoman Nora Agapi, the short films will be made on urgent social issues in Cahul. The workshop aims to be a space for creation and free discussion so that in just a few days, participants will learn how to express themselves and contribute to solving social problems through art.
Who can participate:
Young people from Cahul region are expected to attend the workshop in Cahul, but a limited number of participants from all over the country will also be accepted;
Age: 16+;
Nationality: Republic of Moldova.
How to participate:
Participation in the workshop is free and places are limited. Those who wish to register are requested to fill in the form available here until July 27.
About the mentor: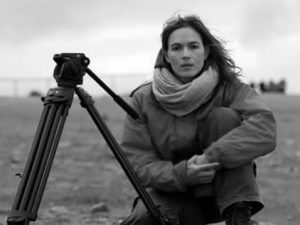 You will create your documentary film under the guidance of Nora Agapi, who is already in her seventh year as Exploration @MOLDOX Lab tutor. Nora is the cinematographer of several documentaries that have garnered laurels at top European festivals and has extensive photography experience. A graduate of the National University of Theatrical and Cinematographic Arts in Bucharest and a Master in Digital Arts at the University of Athens, Nora is a member of the Romanian Filmmakers Union. "Timebox" (2018) is her latest film, which has already won several awards at international film festivals, such as Ji.hlava and Dokufest Kosovo.
Details:
Language of instruction: Romanian;
Deadline for applications: July 27, 2022;
Number of participants: 12-15;
Level: beginners.
Participants commit to be present and actively participate in all theoretical and practical sessions of the workshop.
For more information, please get in touch with us at: lab@moldoxfestival.com.
This workshop is possible with the financial support of the Romanian Cultural Institute National in Chișinău and City Hall of Cahul.